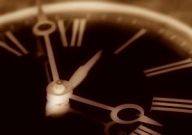 Image credit: sxc.hu
Alexander Popoff: "If I had a time machine I'd visit Marilyn Monroe in her prime," wrote Professor Hawking in his article "STEPHEN HAWKING: How to build a time machine," Daily Mail, 27 April, 2010. I liked very much his idea and prepared to go back in time. I started with time travel research, reading reference books and articles, and exchanging emails with leading experts on time travel.
Scholars most often suggest using the following time travel methods: to travel faster than the speed of light, to use black holes, cosmic strings, negative energy, negative mass, exotic matter, or wormholes. After making some brisk calculations with my favorite pocket calculator, I came to the conclusion that the easiest, and financially accessible, way to travel back and forth in time is to build a wormhole. Constructing a wormhole is more or less clear, and I could make a time machine based on this technology in about a few months.
View:
Full Article