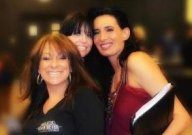 Image credit: Paul Dale Roberts
Paul Dale Roberts:
Question:
Dina, before we get started, please introduce your team members, the position that they hold in your group and if you want to throw in their bios, please do.
Answer:
Dina Palazini, Founder/Field Researcher: Dina is an avid outdoors person and is experienced with horses and tracking game. Dina first had an encounter with Bigfoot when she was a teenager. She wasn't looking for him, but he found her. Now it is her quest to find this creature again and study their habits.
Kris Stepney, Co-Founder/Field Researcher: Kris began researching Bigfoot in 2010 with Dina Palazini and Carl Johnson with the Big Rhodey Research Project. She was intrigued by Dina's eye-witness account and wanted to learn more about this creature and its habits. Kris is primarily responsible for tech, videography, evidence review, and website design / maintenance.
Aryes Clague, Co-Founder/Field Researcher: Aryes was born in Rhode Island but was raised up in the back woods of Western North Carolina. She has raised, rescued and trained horses her whole life. Aryes has always believed in Bigfoot and the paranormal but was never able to express it. She loves trying to figure out the unknown, and the things others are skeptical about and afraid of.
View:
Full Article