Harsh86_Patel, on 03 May 2013 - 09:24 AM, said:
Notes from the Webmaster:
As there usually is when it comes to OOP artifacts, there is some controversy over the Klerksdorp Spheres. Most skeptics bash Cremo on his supposed source (a weekly world article), rather than address the object itself and conveniently ignore the fact they were mentioned a great deal earlier than Cremo's 1993 book. For example:
Barritt, D., 1982, The Riddle of the cosmic cannon-balls: Scope Magazine. (June 11, 1982)

Pope C. and B. Cairncross 1988. "Cosmic Cannonballs a geologic explanation: ARIP View. no. 1., pp. 5-6. (ARIP = Association for the Rational Investigation of the Paranormal)

Nel, LT., H. Jacobs, J.T. Allen and G.R. Bozzoli 1937. Wonderstone. Geological Survey of South Africa Bulletin no. 8
For a good counter-argument, see the Wikipedia article on the Klerksdorp Spheres. In summary, the main arguments against them are:
Some geologists who have studied these objects argue that the objects are not manufactured

, but are rather the result of natural processes.

Not all are perfectly spherical, and some have varying shapes. (

Yet there do exist some that are perfectly spherical with the afore-mentioned unusual balance

.)

What NASA reportedly said is being contested.

What Mr Marx stated regarding their "perfect" balance was misquoted,

although he still argues they are enigmas

.
However, at this point, it has yet to be proven conclusively either way as to whether these are legitimate OOP artifacts or not. Until these can be firmly debunked, I will leave with the other artifacts. You the reader must decide for yourself whether or not you think these are man-made.
https://www.forbidde...info/?q=node/26
The issue is that the people and websites that hawk the
Klerksdorp Spheres are showing only the concretions that are spherical or next to spherical in shape. There are other concretions found in the same area as the "Spheres" which are not spherical in shape at all.
The ones that are prominent on such sites looks like the one below
But they never show the shape of the majority of the Spheres.
These objects should be called Ottosdal Sphere rather than Klerskdorp spheres.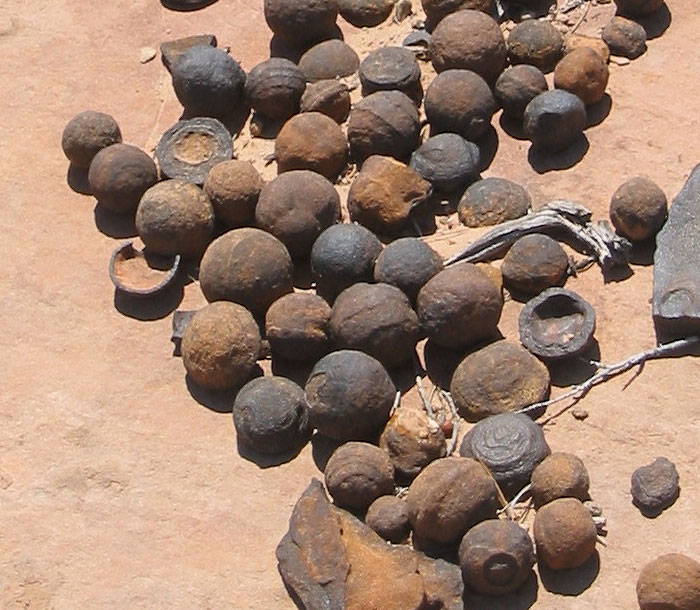 A detalied analysis of the Ottosdal Sphere can be found at this
link
, which also has some interesting photos of the spheres