Back in 2011 I had the great opportunity to visiting Cappadochia and nearby Derenkuyu in Nevsehir, central Turkey . I decided while I was in Istanbul to take a few days and go there. Since ancient places are on my to see list., specifically , nearby Derenkuyu (ancient underground city).
Many are probably unfamiliar with the place but it is one of the most interesting ancient. Cities and it WAS a city, in the world and I believe only little is known about it. It dates back to the time of the Assyrians and Hitties , Persians etc. but I surmise it may dateback even further.
DERENKUYU was uncovered when a passageway was found behind a cave revealing what is a multi level underground city extending to a depth of approximately 60 m, it was large enough to shelter approximately 20,000 people together with their livestock and food stores. Equipped with air shafts . It is the largest excavated underground city in Turkey and the world and is one of several underground complexes found across Cappadocia. It was opened to visitors in 1969 and to date, about half of the underground city is accessible to tourists.
Its literally a maze and since im claustrophobic I didnt get very far down. Not to mention these massive multi ton circular round stone doors , the same ones on Indiana Jones, idk what theyre called but the sight of them from below being underground imagining they would roll closed was enough for me to happily run out.
It is a strange and amazing place. Ill be back again soon enough. Hopefully somewhat intoxicated this time..
So ive read a ton on it, recently it was in an ancient aliens episode. Naturally, a good place to connect aliens to.
Anyway, does anyone have other thoughts on its origins?
Aside from its occupational records, there doesnt seem to be a definitive on who actually made it. One theory is the one being that some of the first Christians have sought refuge there. Of course they werent the first though.
A pic from the inside and one of several stone doors ( which would indicate having to have means of protection in other words hiding out from someone, something )
,what it looks like amassed
And there Is in fact a small village above it.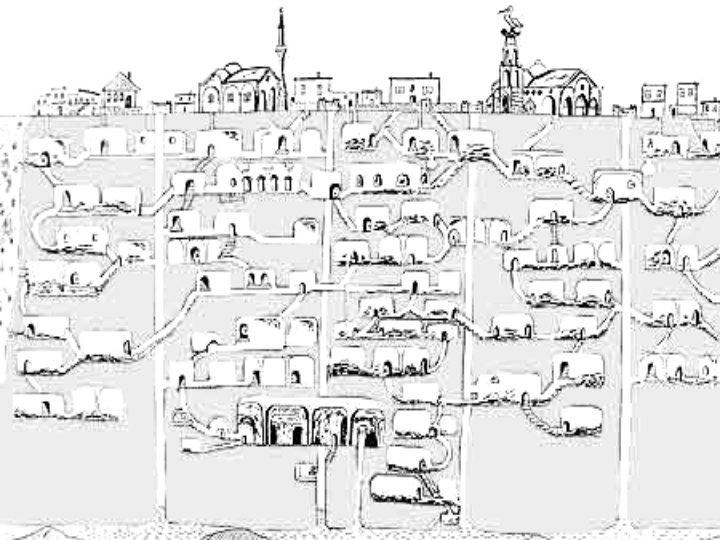 Edited by Sheep Smart, 12 May 2013 - 06:16 AM.