If people can post threads using pictures of supposed peeping tom extraterrestrials with nothing more attached than a link to the rediculous story, I don't see why I cannot post a proposed theory of mine in which every aspect in its characteristics are instantiated with an explanation as follows;
Since there is some very verifiable scientific evidence (from that of a german scientist which has been scrutinized by mainstream egyptologists due to its fear of tarnishing its sophisticated reputation) that the Egypian mummies (those of higher state literally and figuritively) partied hard...
Where do you think the coke fueled hash bashes were held, I say giza with no doubt. Because the prior civilation (non egyptians) who in prehistoric times built the giza entirety different than the other pyramids which is obvious, I think they may have used those 2 unexplained shafts for endless supplies of drugs. One shaft was administered weed and the others Columbia finest. From the ground shaft profused mass amouts of beer (imagine an underground mighty keg). The slaves would just keep it going allll night , in fact days! Perhaps weeks. Now,..
Take a look closely at the Interior inside the giza,..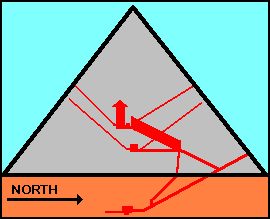 They'd party themselves into a coma and then ultimately drop dead.
Whoever fell in the sarcophagus first was to be granted the title of being a king and their superior state of graduated elevation was intended to go even higher in death. Their names were probably confused since everyone was so drugged and left false records due to error on behalf of intoxication.
There may have been a large disco ball hung in the center and it may have been called " the eye in the sky".
What we presume as hieroglyphs were likey the result of hallucinations due to intense psychadelic acid trips in addition to other substances .
While some may not adhere to this theory, I point out that it is not much more valid than every other theory including the lame so caled ACCEPTED not proven (as we are all aware there is minimal evidence in academic proposed theories of egyptian history and in particular the great pyramid of giza) and so I thereby make my theory relevant.
Sheep.
Edited by Sheep Smart, 17 May 2013 - 08:47 AM.