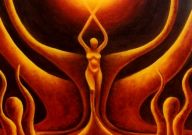 Image credit: Jeroen van Valkenburg
Dan Green: The subject of reincarnation, or as some prefer, rebirth, is a vast one and in its simpler terms easy to understand and, equally, to believe. Rather like the translation of UFO experiences so that our brain will not expand itself suddenly to cause a cosmic glimpse of reality that could be detrimental to the unprepared recipient, then so too has our understanding of reincarnation had to be presented in a fashion that we have a better chance of feeling comfortable with.
For those who may dare to stretch their own comprehension a little further outward, I will share my own inroads into how an alternative understanding of reincarnation announced itself as being the one true rebirth, that of planet earth, drawn from my own experience and research, treading a solitary and lonely DNA path and receptivity to Tibetan Kalachakra ('Time Wheel'), to continue an earlier World Mysteries feature 'The Maitreya Code –Planetary Treasure of Tibet' in which I revealed Buddha's hidden teaching and how Tibet functions as the brain centre of our planet.
View:
Full Article