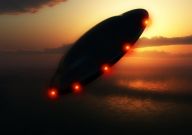 Image credit: stockxpert
Doomsayers have been around since Adam met Eve, but now they are more prevalent (there are more than 1,000 in the United States alone), and it seems that each is trying to come up with the most outlandish prognostication.
For example one guru predicted that elderly Nazis were hiding beneath the South Pole and were plotting to take over the planet with help from space aliens. Another warned that a monster quake will make Phoenix, Ariz.

View:
Full Article
| Source:
Redlands Daily Facts