Yes, here is another one on the VM. Folio 68v of the manuscript shows 3 drawings and the focus here is on the left one,
I will name it D3. Compared with actual pics of spiral galaxies, D3 contains all the structural characteristics of a spiral
galaxy like a center, spiral arms, stars and an outer threshold. In addition, D3 shows a big blue dot in between a row
of stars.

For a better viewing I have extracted D3 from the pic and marked a red line from the center to the threshold, this line
walk across the blue dot. Picture 2 shows a graphic of our galaxy with the position of our sun. Also in pic 2 a line is
marked from the center to the threshold, passing the earth.

And now the math. The measuring unit for both red lines is %, so both red lines have a length of 100%. In the graphic,
earth has a distance from the center of the galaxy of approx. 41% of the radius and the blue dot in D3 has a distance
of approx. 35%. So, in D3 an object is marked that matches the distance proportion from earth to the galaxy center
by an accuracy level of <10%. Huh?
VM D3:
Graphic of our galaxy: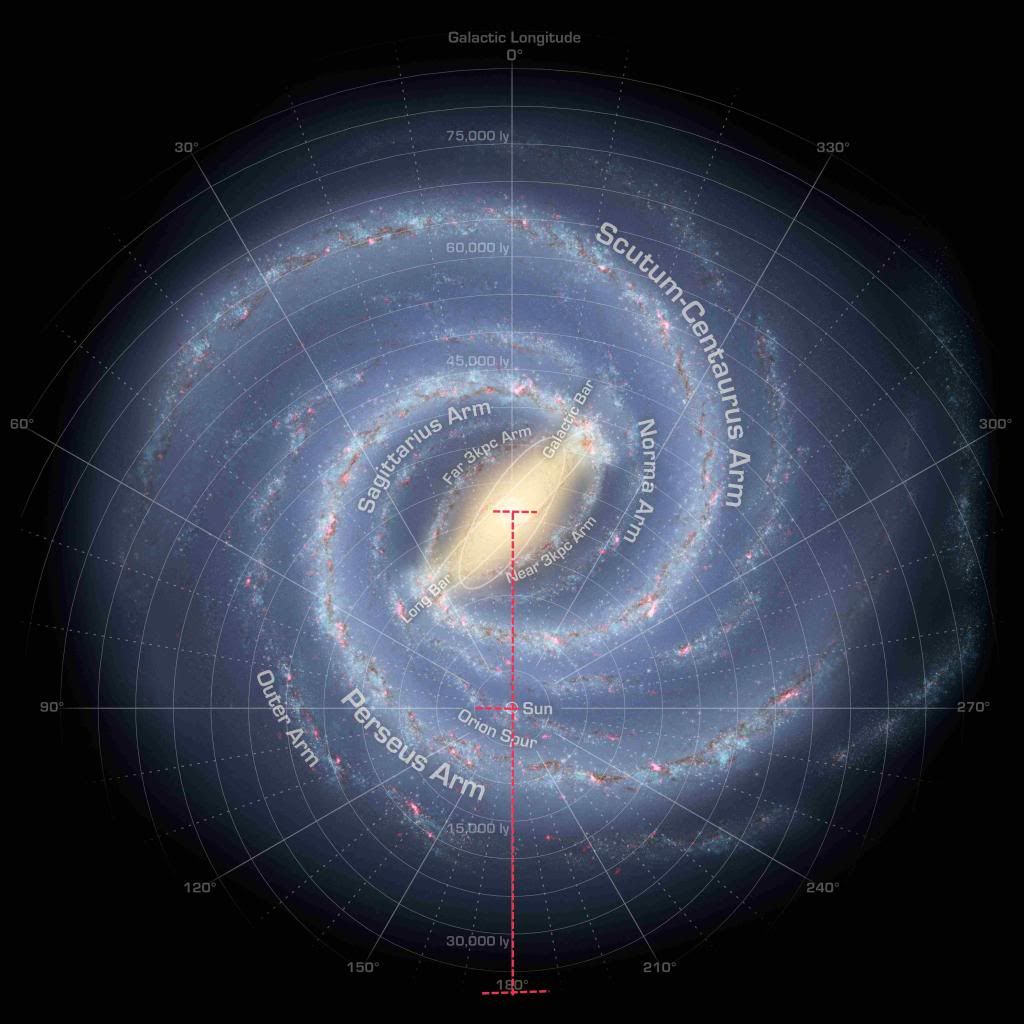 Facts: four pages, including 68v, of the VM were C14 dated to 1404-1438. The refracting telescope was developed
around 1600. Without any optical equipment, there are 5 (?) galaxies that can be seen with the naked eye but only
under best conditions: M31,M33,M81,LMC and SMC but it is impossible to see single stars let alone non-star objects
in these objects.
So the questions are: Fortuitousness? Faked VM? Wrong C14 dating? Development of the refracting telescope some
hundred years earlier as known yet?
PS: I know, 6 main arms in our galaxy, 8 "arms" in the drawing
Sources:
http://phys.org/news...xperts-age.html
http://www.bibliotec...nuscrito122.jpg
Edited by toast, 06 February 2014 - 10:26 PM.