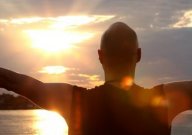 Image credit: Sandy Chase
Brendan D. Murphy: As personalities, we were all "born" from the One timeless consciousness — the Eternal/Absolute/Brahman — and it is back to this awareness that we all wend our unique paths. There are as many paths back to Reality as there are people—and we all arrive in the end. The yogi philosophy teaches that the best way to accelerate one's personal spiritual evolution and thus, the journey home, is through the practice of yoga. There are considered to be three primary sub-categories of yoga: Raja yoga, Gnani yoga, and Karma yoga.
We're going to focus on Karma yoga here, because in a fast-paced and materialistic world where many people feel burdened by a sense of powerlessness, misfortune, heavy responsibility, and/or dreary obligations, the option of sitting, meditating and living like a yogi may seem neither practical nor appealing.
View:
Full Article