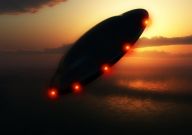 Image credit: stockxpert
According to Subhra Jain, a freelance reporter in New Delhi, she bumped into a very senior Indian Military official in a nightclub in New Delhi. While talking what she came to know will make the rest of the world sit up all night.
According to her, Extra Terrestrials have been visiting India and the rest of the world for thousands of years. In recent days most of the super powers have been formally contacted. India is no exception in recent days.

View:
Full Article
| Source:
India Daily