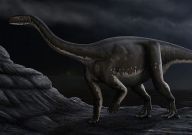 Image credit: Steveoc 86
In the still unsolved mystery of how the dinosaurs died, there's a new suspect -- fungus. After a meteor slammed into the Earth 65 million years ago, "the great dying" began, decimating life in the oceans and killing off the dinosaurs -- with mysteriously little effect on mammals.
Conjecture over what did in the reptiles has long fascinated everyone from school children to paleontologists, but a new theory suggests that a less earth-shaking possibility could have played a role.

View:
Full Article
| Source:
Boston Globe