I am curious as to what your thoughts are concerning the looting in New Orleans.
Do you think it is stealing...or is it a matter of survival?
Looting Takes Place in View of La. Police
By ALLEN G. BREED, Associated Press Writer
NEW ORLEANS - With much of the city flooded by Hurricane Katrina, looters floated garbage cans filled with clothing and jewelry down the street in a dash to grab what they could. In some cases, looting on Tuesday took place in full view of police and National Guard troops.
At a Walgreen's drug store in the French Quarter, people were running out with grocery baskets and coolers full of soft drinks, chips and diapers.
When police finally showed up, a young boy stood in the door screaming, "86! 86!" _ the radio code for police _ and the crowd scattered.
Source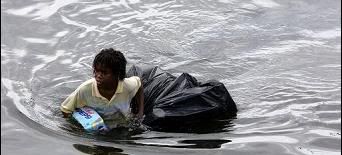 A young man walks through chest deep flood water after looting a grocery store in New Orleans ...