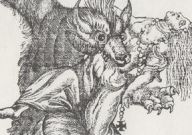 Image credit: Wikipedia
Werewolves. People who shapeshift into howling, bloodthirsty wolves by the light of the full moon. As Lord Byron noted, this affliction is also known as lycanthropy. Itís a superstition that dates back centuries and has been popularized by books of fiction and dozens of films.
Virtually every culture on the planet has lore and traditions of were-creatures.

View:
Full Article
| Source:
about.com