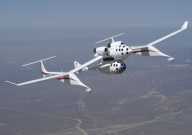 A project to create a passenger-carrying suborbital rocket took a major step forward August 7 -- the first glide flight of SpaceShipOne, built by Scaled Composites of Mojave, California.
The space ship was hauled skyward attached to the White Knight carrier craft, then released from altitude to glide under a pilots control to a desert landing.The SpaceShipOne was launched at 47,000 feet, some 10 nautical miles east of Mojave, California. According to a flight report issued by Scaled Composites, separation between the two vehicles was clean and positive. Handling qualities of the vehicle as it sped through the air were reportedly in close correlation with ground-based simulations. Onboard avionics and cockpit displays that gave the pilot handling information during the glide test performed flawlessly. The vehicle made a smooth touchdown, with the entire flight from launch to touchdown viewable from the ground. All reports suggest that the first SpaceShipOne drop test worked well as it was put through its paces under the control of pilot Mike Melvill.
Several unpowered glide tests of the SpaceShipOne are expected in the near future. The vehicle is ultimately to be propelled by a hybrid rocket motor, pushing the craft to the edge of space.Burt Rutan, noted aircraft designer and head of Scaled Composites, was delighted with the successful glide test. The flight moves the company and concept closer to winning the X Prize $10 million purse a prize dedicated to furthering suborbital passenger flight, as well as orbital treks of private citizens.

View:
Full Article
| Source :
Yahoo News