Just bored and in pain and wanted everyone to know I fell off my horse...actually I didn't
fall
off my horse...I 'flew' off of him...at break neck speed into the arena pipe fence. He began galloping on his own without any prompting from me and continued to increase his speed...he disregarded all commands and was going so fast I had no choice but to 'dismount' which could have ended tragically...
...there wasn't a good ending for that story...I slammed into the pipe fence and then into the ground, injuring my left shoulder, my right back rib cage and my tail bone....it is all quite painful but nothing apparently broken....
...so that is my sad story...you may all now go about the business at hand.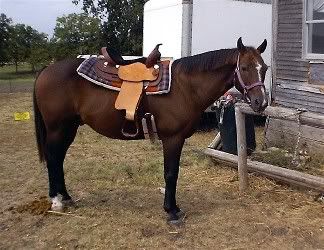 Flip...a race horse...17 years old...faster than a speeding bullet!