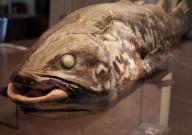 Image credit: Todd Huffman
After surviving for millions of years, the coelacanth is threatened by commercial fishing fleets. It is not every day that you come face to face with a dinosaur dating back 400 million years, but for the fishermen in Kigombe on Tanzania's northern coast it has become almost routine.
In the middle of Kigombe, a village of simple huts on this breathtaking edge of the Indian Ocean, a young fisherman stood proudly before a large green plastic container.

View:
Full Article
| Source:
The Guardian