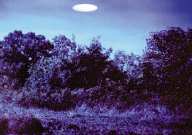 It flashed across the sky like a shooting star, trailing a tail of green streaks.
But what Durham police Lt. Morris Taylor saw Monday night on Erwin Road was different from any shooting star he had ever seen before. "It was pretty wild looking," Taylor said of the unidentified flying object. "It looked comparable to the size of the moon in the sky." Durham police dispatchers began receiving calls about an unidentified flying object at around 8:45 p.m. Monday, and one resident even flagged down a passing police cruiser to report the object. According to a dispatcher, about six reports were received in all. Durham County Sheriff's Deputy Brad O'Briant said he was checking property on U.S. 70 when he saw the flying object over in the direction of Interstate 40. O'Briant said the object was moving too fast to discern its color, but its tail had a distinctive greenish-white hue to it, he said. "It just went across the sky and disappeared as it got toward the horizon area," he said. "It was a lot larger than a shooting star would be. It was almost like a firework going to the ground or something."
Air traffic controllers at Raleigh-Durham International Airport said they hadn't seen the object, but several pilots reported catching glimpses of it Monday night. Durham dispatchers said they received reports of sightings around South Miami Boulevard and Page Road, Duke Forest, and as far north as the Little River area. "I thought it looked pretty neat," Taylor said. "I had never seen a shooting star like that before." Taylor said the object was "humongous" compared to a shooting star. "It was a shooting star-type of thing," he said. "I can't imagine anything else that it could be. We haven't had any calls about anything crashing or anything."

View:
Full Article
| Source:
Herald Sun