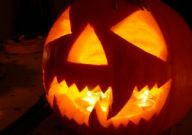 It's that time of the year again, the time for Trick or Treating, pumpkins, scary costumes and enough candy to last well into next year.
But where did Halloween originate - and what exactly is 'Halloween' ? Our modern celebration of Halloween actually comes from the ancient Celtic festival 'Samhain', meaning 'Summer's End'. The Irish English dictionary defines 'Samhain' as "Samhain, All Hallowtide, the feast of the dead in Pagan and Christian times, signalizing the close of harvest and the initiation of the winter season, lasting till May." The end of summer was of particular significance to the Celts, since they were a pastoral people, and at that time their lives changed dramatically due to the onset of winter. Folk tradition tells of many different practices associated with Samhain, in particular divinations associated with marriage, involving the ducking for apples to decide who would be first to marry in the coming year. The practice of 'Trick or Treating' originally involved people immitating 'fairies' by going from house to house begging for treats. Practial jokes would be played on the owner of the house should the provision of treats be denied.
To this day many of the original practices are still performed in one form or another, and many who follow the pagan religion still treat Halloween as a religious festival - a day on which to remember dead friends and family. So when the kids come knocking at your door tonight trick or treating - think back to the origins of Halloween, and consider how you may have been spending October 31st had you been among those celebrating Samhain in the distant past. Happy Halloween !