I was wondering about the outcome of the Red Rains of Kerala..
Any change to the Flora or Fauna???
This article is interesting though...
Quote
http://www.bibliotecapleyades.net/ciencia/...ia_kerala11.htm
Temperature and Pressure Experimentation with Red Rain Cells

Over several months, Dr. Louis began experimenting with different temperatures to see if the cells would respond. As the temperature rose, he saw more activity. Eventually he got up to 300 degrees Celsius, which is about 600 degrees Fahrenheit. He also increased the pressure to 300 pounds per square centimeter. It is assumed that normal Earth life would die at such a high temperature and pressure. But the red-walled cells in the Kerala rain water seemed to thrive.

No DNA?

During his experimentation with temperatures and pressures, Dr. Louis studied the cells under a microscope. As he watched, the cells produced smaller cells internally that were colorless, or whitish. He began calling those new, little cells "daughters" of the original "mother" cells. Once he counted as many as fifteen daughter cells bud inside one of the adult "mother cells."



As the daughter cells grew, their cell walls also became red and eventually, the daughter cells erupted through the wall of the mother cell. This is clearly a process of replication. In normal Earth biology, replication of cell life requires the presence of DNA. But Dr. Louis could not find evidence of DNA in the proliferating cells inside his test tubes.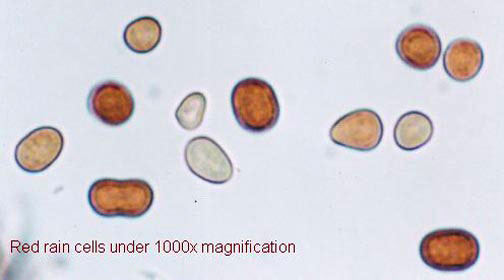 Red adult "mother" cells and clear, or white, "daughter" cells in Kerala red rain water,
magnified under a microscope by a power of 1000. Average size of Kerala red rain cells are 10 microns.
Compare to normal red blood cells below, which average 7 microns in diameter. Photomicrograph
© 2006 by Louis Godfrey, Ph.D., Mahatma Ghandi University, India.

The controversy he knew would be provoked if he reported living cells that had no DNA, he told me recently, is why he kept his research of the red Kerala rain water to himself. But in January of 2006, he contacted the respected astrophysicist and astrobiologist, Chandra Wickramasinghe at Cardiff University in Wales. Soon Dr. Wickramasinghe had some vials of the red rain water to study. Dr. Wickramasinghe also sent some of the vials to biologists at Sheffield University in England.



And Dr. Louis sent more of the red rain water to scientists at Cornell University in the United States for isotopic ratio studies of the elemental composition of the red rain water. Elements confirmed so far are hydrogen, silicon, oxygen, carbon, and aluminum. The search is now on for phosphorous, which must be present if there is DNA. Scientists are also looking for definitive proof that there is – or is not – DNA in the mysterious replicating cells from the Kerala red rain.
Edited by crystal sage, 13 February 2008 - 04:03 AM.