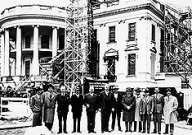 The White House at night is a dark and spooky place, haunted, according to legend, by ghosts of dead presidents and a former British soldier.
"It is a big old house, and when the lights are out it is dark and quiet and any movement at all catches your attention," longtime White House chief usher Gary Walters said on Friday during a Halloween chat session on the White House Web Site. President George W. Bush, who was spending Halloween at his Texas ranch, has never reported seeing a ghost, Walters said. But recent presidents have felt the presence of their predecessors, he said. "The presidents that I have worked for have all indicated a feeling of the previous occupants of the White House and have all talked about drawing strength from the fact that the previous presidents have lived here," he said.
The spookiest area of the White House is probably the president's living area, Walters said. "Every sound resounds through the halls."He declined to discuss any measures to protect the president from a malevolent ghost. "I refer you to the Secret Service information officer, as I'm not aware of the specifics in the security area," he said.

View:
Full Article
| Source:
Hindustan Times