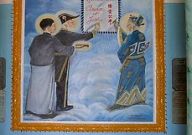 Today he'd be called a political strategist, but in the 16th century he was seen as a great seer.
Huy Hao charts the course life of Nguyen Binh Khiem's life.In Hanoi there's a T-junction made up of two large rivers: the Red river and Duong river. On the banks of the Duong River, at the Northeastern gate of the city, there is Thanh Am, a communal house that worships Nguyen Binh Khiem (1491-1585), who is considered in Vietnamese historical circles to be the biggest seer in the history of the country.According to Nguyen Phuc Giac Hai, a historian and researcher of the paranormal, Khiem was also the first scholar who mentioned the name Vietnam, the national name officially declared in 1804 by Gia Long, the first king of the Nguyen Dynasty (1804-1945).In Trinh Tien Sinh Quoc Ngu (Literary Works of Master Khiem) one of the most valuable works of Khiem that remains intact today, he wrote 'Viet Nam khoi to xay nen', which means 'Vietnam the founder', in the opening sentence.He also used the name Vietnam in four of his poems in a book of verse on the scenery of the nation's mountains, rivers and the sea.Nguyen Binh Khiem was born in Co Am Commune, Vinh Bao District of Haiphong City and even his birth has become the stuff of legend.His mother was said to be very well-educated and acquainted with the science of Oriental fortune-telling.
Her marriage with Nguyen Van Dinh, a high-ranking official of the Le Dynasty, was based on her a studious, but superstitious, selection process.She even calculated the best time to give birth to Nguyen Binh Khiem and as he grew up she tried to cultivate a desire in his mind to become king.When teaching him, she usually used words implying his would-be-kingly status but her husband often managed to make light of this, so the ambitious mother parted ways with the husband and left Khiem to be educated mainly by his father.Later on, his mother met a wise man named Mac Dang Dung by chance. She strongly believed this man was destined to become king and she is said to have regretted not marrying him.

View:
Full Article
| Source:
VietNameNet