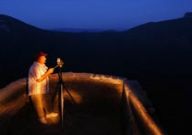 A mystery that has eluded Boone researchers for centuries may soon be solved.
Long before the establishment of Appalachian State University, reports existed of mysterious lights appearing in the vicinity of the Linville Gorge, known as the Brown Mountain Lights.Astronomy and physics professor Dr. Dan B. Caton said the lights appear at completely random intervals and 90 to 95 percent of the occurrences can be explained.But Caton isn't interested in those; instead, he is making it his goal to study the other 5 percent – the occurrences that science has tried to explain, but has not been able to.Observers of the lights have reported them to appear as bright, glowing orbs above Table Rock, Linville Gorge and Brown Mountain.Caton said they have been reported in every color, and sometimes last for a few hours. Caton received an e-mail from someone who saw the lights from a distance of eight feet in a parking area.Caton's idea to research the Brown Mountain Lights is in the form of a web-cam, which he has already procured through university funding.Caton received permission from the U.S. Forest Service to place the web-cam on a pulpit at the Wiseman's View overlook off the Blue Ridge Parkway, but realized the camera might be destroyed by vandalism.
To solve that problem, Caton and his associates proposed the building of a tower to house the web-cam. Permits for the tower are expected to be approved by the Forest Service next month.However, the funding for construction of the tower through the University Research Council was recently denied."Now we're in the odd position that the U.S. Forest Service is likely to approve the permit, but we lack funding," Caton said."If I get approval, I will make it happen somehow," Caton said.

View:
Full Article
| Source:
The Appalachian Online