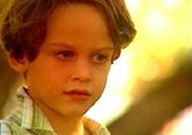 Little Kai looks and talks like any other 3-year-old.
"I like to play chicken games and another game about tigers," he said. But his mother, Lon Bloomfield, says he has supernatural gifts ... and remembers past lives."Maybe about a year ago, he told me, 'Remember Mom, when I was your dad?'" Lon said.Do you know a child like this?Smart, intuitive, sensitive, strong-willed, and full of energy, they're often called "Indigo children" -- a popular label for kids who are especially gifted. Many psychologists and parents believe these children have psychic powers and are more evolved. Shannon Parsons says her four kids are also Indigos. "They're always talking about when they were in heaven and what they knew and who they knew," she said.Her 7-year-old son Chandler frequently talks to an imaginary friend he says he met in heaven ... "We talk about everything in the world," Chandler added, "[like] what he did on his vacation."
Parapsychologist Nancy Ann Tappe was the first to describe these children more than 20 years ago. She says they're called Indigo because of the dark blue aura that surrounds them. And she believes Indigos are more evolved than past generations."They're straight-talkers," Tappe, formerly of San Diego State University and currently represented by Spelling Publishers, explained. "They don't want to be talked down to. They'll catch you at three if you do."

View:
Full Article
| Source:
News 14 Carolina