Quote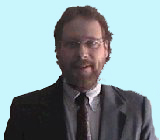 Charles Hawkins was recently asked to conduct an in depth evaluation of the NASA Apollo Moon landings and make a scientific evaluation of their legitimacy. He Has over 20 years of experience in the applied sciences, industrial electronics and robotics as well as a degree in computer science.
http://www.777radio.com/ssi/charles_hawkins_bio.shtml
Great, a page that says nothing, and links to Charles Hawkins indeed...
Vice President of Halstead Properties, a high-end New York real estate firm.
He's a real estate agent...
We are now grasping at straws, literally.
I am supposing science didn't work out....so he went into business selling 2 bedroom, 2 million dollar places in Manhattan....
Edited by MID, 22 December 2006 - 02:44 AM.