Quote
Whales & Dolphins were and are being researched by human scientists in a way where the scientist wants to see specific behavior and if this behavior matches their expectations. Since expectations are based of human way of resoning the results are mediocre! If their societies are based on different principles humans have to disover such principles before out expectations can be used as measure of any behavior.
Let's assume for a moment that Whale and Dolphin societies are based on Unity Consciousness. It is an understanding where one is telepathically connected to others and each has the happiness of the others as their major desire. And it is sought to create that, which provides the fullest expression for each part of the group, for each member of the group.
Not all cetaceans are socialŽand many are massively different to each other and if they are all one and the same why do they predate on each other?
How do you compare such society to ours? We are 100% opposite. We are separated from each other. We mislead each other. We pray on each other (mostly financially, by thefts etc). If our expected results come from our world of separation - they will never allow us to understand behavior giuded by different principles. In this case these principles are so much better, higher than ours!
Yes dolphins never attack each other or attack each other at all, or attack other species
It's midnight here - I am off to my snoring corner. Cheers, Spirirtual Whale
You should look into real work on cetaceans done in open waters and you'll find very little to back up your ideas at all. If you want preying (not pray) on each other, the name killer whale, this was a misquote of whale killer, named because they kill whales.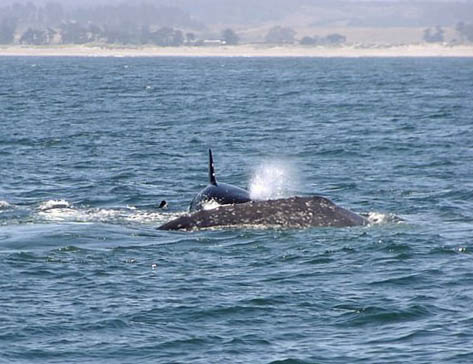 Orcas killing a grey whale calf
Orca killing a pacific whitesided dolphin..... I'm sure these animals felt a great spiritual bond while being killed and being killed not just for food but for sport.
Why does no one ever claim to have a spiritual conncetion to porpoises, why is it always dolphins