Comet McNaught (C/2006 P1) is plunging toward the Sun. It won't hit, but at closest approach on Jan. 13th it will be only 0.17 AU away--much closer than Mercury (0.38 AU). When the hot comet emerges later this month it could be brighter than a 1st-magnitude star. Or not. No one knows what will happen.
At sunrise this morning in Vallentuna, Sweden, P-M Heden was able to photograph the comet through a break in the clouds: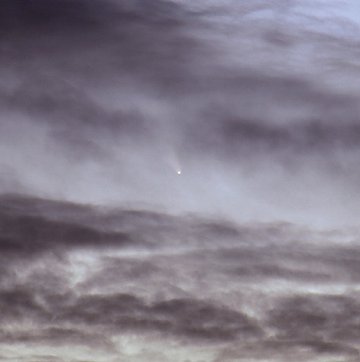 Details: Canon Digital Rebel XT, f/5.6, iso 100, 2s exp
"I had a beautiful view," he says. "I saw the comet with my naked eyes just before the sun made the sky too bright."
"The tail was a beautiful sight in binoculars," adds Haakon Dahle of Fjellhamar, Norway, who took this picture, a 1 second exposure at 800 ASA. "I also saw the comet with the naked eye," he confirms.
Soon, the comet will be too close to the Sun to see--unless you're SOHO. From Jan. 11th to 15th, the Solar and Heliospheric Observatory will monitor the comet-Sun encounter using its onboard coronagraph. A date of note is Jan. 14th when Comet McNaught passes less than a degree from the planet Mercury. Join SOHO for a ringside seat.
http://www.spaceweather.com
----------------
It's been raining here...Hopefully i'll be able to catch it before it dissappears, or after it reappeares later this month...
Edited by frogfish, 06 January 2007 - 12:26 AM.