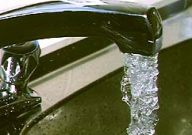 A Californian woman who took part in a water-drinking
contest
to win a video game system has died of water intoxication, tests have shown. Jennifer Strange had taken part in the "
Hold
Your
Wee for a Wii" game run by KDND 107.9 radio in Sacramento, which promised the winner a Nintendo Wii.
A work colleague said Ms Strange had reported her head was hurting hours after the
contest
and was going home. Ms Strange, 28, was found dead on Friday at her house in Rancho Cordova.

View:
Full Article
| Source:
BBC News