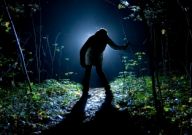 Image credit: stockxpert
North America's Pacific Northwest has Bigfoot. The Himalaya region of Nepal and Tibet has the Yeti.But in Florida's swamps, Dave Shealy is on the lookout for the skunk ape, hoping to prove the smelly creature does actually exist and win it government protection.
Shealy, 43, claims he saw his first skunk ape -- a creature similar to an orangutan or gorilla but with a foul odor -- in 1974 and has been searching for more ever since.

View:
Full Article
| Source:
Reuters