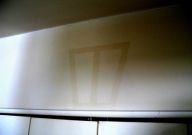 Charn Parker: It was early afternoon and my roommate was sweeping the small foyer area in the apt.
He turned the ceiling light on so he could see better. He looked up to check for any little spider dust puffs and noticed a pattern on the upper wall over the hall closet door. As he happened to turn his head while still looking up he noticed a second pattern of the same design on the wall over the front door. Out of the corner of his eye with hesitation he glanced at the wall above the kitchen, and startled he saw another identical pattern. So there were three identical patterns, exactly the same distance from the cieling and exactly the same size. They were perfect patterns. He came to my bedroom in total awe to show me what he had discovered. When I saw them I just thought, "uh - oh".
We examined them closely. All the same size etc. Each one was a bit lighter or darker than the others.After spooking ourselves for a half hour or so, it was Chuck that realized what the pattern or symbol was. He said, it looked like an upside-down Trapezoid. However this trapezoid had a vertical line down the middle. We wondered if perhaps a former tenant had hungfixtures in those spots and we were seeing a bleed through; but they were too perfect to be a bleed through.I felt very uncomfortable about them. I don't spook very easily, but these for some reason I didn't like. The next day, Chuck said he was going to clean them off. I said, " I don't know, maybe we should leave them alone".
First he used a Mr. Clean magic eraser sponge (plug for Mr. Clean) that removed some of it. To get the remainder off, he used Purple Power Industrial strength cleaner. ( Another free plug) Basically they came off, though there is a very very light trace. One has to strain to see them. He said if he had scrubbed anymore, the paint would start coming off. So after that we jusr relaxed, tried not to be too concerned about them, (though we were for several days,) and had a Diet-Coke. (smiles)We used my Canon Powershot G6 to take the pictures. The pictures are a little yellowish due to the various shadows and lighting around us, and (admittedly) some dirt. I took the one picture over the closet and re-exposed it slightly raising the light level, and it gave the trapezoid a perfect effect and clarity. Another note: Trapezoids are mainly known in mathematics; namely geometry and physics etc. However without the center line. In the photos I lightly reexposed the brightness hoping it would be more clear and it was - you can now see the sharpness of the outline, from the others.
The pictures:
Image 1
|
Image 2
|
Image 3
|
Image 4
|
Image 5