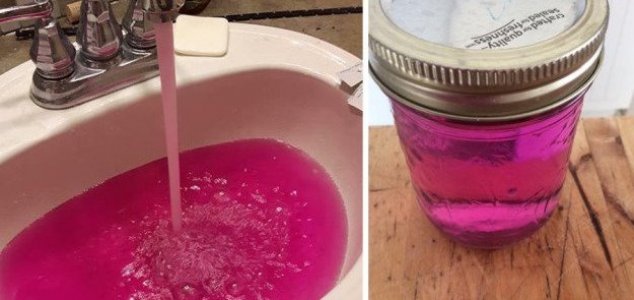 Residents uploaded images of the pink water on Facebook and Twitter.

Image Credit: Erin Lacey / Facebook
Residents of Onoway, Alberta were alarmed to discover that their tap water was running bright pink.
The peculiar problem began on Monday night when the water supply to around 1,000 homes in the Canadian town of Onoway turned a bright fuchsia color.
The issue was later tracked to a stuck valve at a nearby water treatment plant which had resulted in excessive amounts of potassium permanganate ending up in the town's water supply.
"While it is alarming to see pink water coming from your taps, potassium permanganate is used in normal treatment processes to help remove iron and manganese and residents were never at risk," said Mayor Dale Krasnow who was keen to reassure residents that the water was safe to drink.
Images and videos of the strange pink water have since gone viral on social media.
Source: ABC.net.au | Comments (10)
Tags: Canada, Pink, Water