A case of self-deliverance (healing
Entry posted by markdohle ·
102 views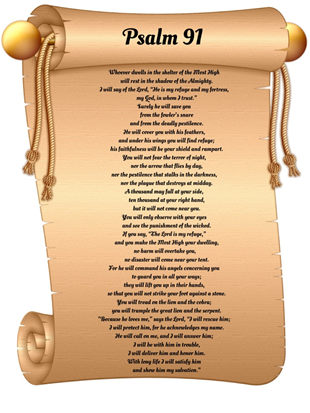 A case of self-deliverance (healing)
The struggle with fear can be one that is hidden from others. It can happen when alone, really alone, like on a country road in the country with no one within miles.

A good friend of mine related this story to me"
She was going to a church in the country here in Georgia for a talk. The road was a dirt road, no street lights, and no homes within sight. It was then that she suddenly started to become filled with fear. It was so bad that she felt almost paralyzed and thought that she would have to pull over in order to call her husband to come and get here. However, she had a copy of Psalm 91 (a psalm of protection and deliverance) and began to say it. The fear held on to her tight, but as he prayed the psalm over and over she could feel the fear retreating. She told me that the struggle was powerful and she felt that there was also a spiritual dimension to it. Actually, I believe that in all of our struggles with fear that there is a component of spiritual warfare to it.

She made it to the talk After the talk, as she was walking towards her car, she begin to shake all over. Something that she never experienced before. It did not last long, but when it was over, she felt that there was a release of some kind.
When she told her priest about it, he simply told her that when she recited Psalm 91 in response to her fear, she did a 'self-deliverance'. For her it was a deep healing.

Psalm 91 is a beautiful Psalm, and it is recommended as a prayer when one feels in danger of any kind.
Below is a copy of this beautiful Psalm. We sing this Psalm every night at compline, our service before we retire.—BrMD
Psalm 91
1 Whoever dwells in the shelter of the Most High will rest in the shadow of the Almighty.
2 I will say of the LORD, "He is my refuge and my fortress, my God, in whom I trust."
3 Surely he will save you from the fowler's snare and from the deadly pestilence.
4 He will cover you with his feathers, and under his wings you will find refuge; his faithfulness will be your shield and rampart.
5 You will not fear the terror of night, nor the arrow that flies by day,
6 nor the pestilence that stalks in the darkness, nor the plague that destroys at midday.
7 A thousand may fall at your side, ten thousand at your right hand, but it will not come near you.
8 You will only observe with your eyes and see the punishment of the wicked.
9 If you say, "The LORD is my refuge," and you make the Most High your dwelling,
10 no harm will overtake you, no disaster will come near your tent.
11 For he will command his angels concerning you to guard you in all your ways;
12 they will lift you up in their hands, so that you will not strike your foot against a stone.
13 You will tread on the lion and the cobra; you will trample the great lion and the serpent.
14 "Because he loves me," says the LORD, "I will rescue him; I will protect him, for he acknowledges my name.
15 He will call on me, and I will answer him; I will be with him in trouble, I will deliver him and honor him.
16 With long life I will satisfy him and show him my salvation.