She talked about time in Rwanda
Entry posted by markdohle ·
159 views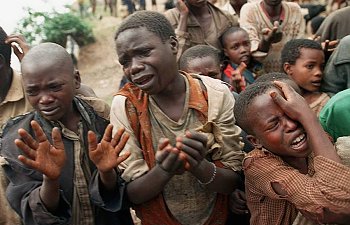 She talked about her time in Rwanda
A kind, peaceful looking woman,
not one to draw attention to herself,
spoke to our group for a few minutes,
a very powerful presentation
given in a soft, gentle, even, loving voice.
She talked about her time in Rwanda,
she was a member of the Tutsi tribe,
she went through hell, lost most of her family.
She hid with a few young family members, children,
her nephew was almost thrown into the river,
yet she said they were spared.
She prayed psalm 91 a lot and it gave her peace,
so she made it, and  is now a loving, compassionate woman,
and she blew my mind.
As she was speaking, I could feel myself shutting down,
because it was too much to absorb, her talk
and she now before us, after so much horror, so loving and kind.
She did say one thing about fear,
I do not fear, what else can be done to me, most of my family
slaughtered, what more can I lose, or how could I suffer more?
Oh Lord, how is it that you experience all of our suffering?
You ask us love our enemies, to forgive…at what cost?
That beautiful women, with a full soul, vibrant, alive,
after so much suffering…..how can it be?
I do not need to understand the how…..but help me to abandon my
soul to your deep, loving, compassionate, eternal Spirit, Infinite, Eternal.—Br.MD