Entry posted by pauldaleroberts ·
109 views
IMAGINARY FRIEND: KALEB
By Paul Dale Roberts, HPI's Esoteric Detective
Halo Paranormal Investigations
www.cryptic916.com/
Sacramento Paranormal Help
www.facebook.com/HaloParanormalInvestigations/
Email: jazmaonline@gmail.com
Sacramento Paranormal Haunted Hotline: 916 203 7503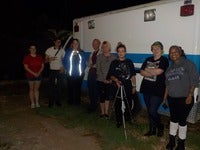 VIDEOS FROM THE INVESTIGATION:
www.youtube.com/watch?v=NebnS-QFWVw&feature=youtu.be
www.youtube.com/watch?v=WrVhkWIToNM&feature=youtu.be
www.youtube.com/watch?v=n1xDKxpI7yM&feature=youtu.be
www.youtube.com/watch?v=-UtfnlgeWk8&feature=youtu.be
www.youtube.com/watch?v=fJAL6IUnOaU&feature=youtu.be
www.youtube.com/watch?v=Y47gGsz7n9k&feature=youtu.be
www.youtube.com/watch?v=nQI7ESBWK8I&feature=youtu.be
www.youtube.com/watch?v=59SVhqac5aQ&feature=youtu.be

INITIAL REPORT
September 20, 2019 Friday / Time to be there: 9pm. Contact Person: Heather. Her son 9 years old is being followed by a little boy ghost (imaginary friend) named Kalep, they see Kalep's shadow in the house. Things get moved around, footsteps heard, people touched. This has been going on for 4 years. Address to be at: Sacramento, CA.

HPI Paranormal Investigators Roll Call:
Paul Dale Roberts - HPI Co-Owner; Deanna Jaxine Stinson - HPI Co-Owner & Psychic Medium; Pelenta Forrest; Randall Johnson; Casey Samure (Guest); Keith Wise; Dez Shyann; Sue Spaulding (Guest).  Occupant: Heather.

INITIAL BRIEFING - SPEAKER: HEATHER (OCCUPANT):
Lights sometime flicker off and on. Heather's son once got yanked out of bed, the entity grabbed his left foot.  Heather once had a burn mark on her leg, caused by the entity.  Heather's father had various marks and scratches on his body from the entity.  Heather believes her 9 year old son may have an attachment.  I suggested that her son get a full submersion baptism (a basic form of exorcism) and Heather promised me that she would have her son baptized.  Shadow figures are seen in the house.  Heather says that they lived in the house for 3 years.  One time the entity threw a box at a person named Bella in their other home.  Perhaps that entity followed them to this house?  

INVESTIGATIONS
There was 3 set of investigations.  Team Jade & Emerald consisted of Randy, Keith and Dez.  Team Honest Busters consisted of Pelenta, Sue and Casey.  One team would cover the outside and the parked non-functioning ambulance.  The other team would investigate the interior of the house.  Ghost hunting equipment was shutting down, batteries drained.  Two investigators had to step outside.  Randall felt a chocking sensation around his neck.  Dez felt a tightening and then felt nauseated.  Casey took Dez outside.  Deanna did a walk through and saw a hooded figure.  Come to find out Heather's father confirmed the hooded figure entity.  Deanna also picked up on a fountain and Heather said there was once a broken fountain in the python's terrarium and there was a book in the boy's room that featured a fountain.  Keith got a headache during the investigation, I don't know if that had anything to do with the paranormal, but thought I would go ahead and note it, since Dez and Randy got ill during this investigation.  We captured 3 EVPs.  One EVP sounded like a little boy and Pelenta captured that inside the ambulance, maybe that was Kaleb?  Another EVP was captured in the ambulance and it sounded like either "get a grip" or some investigators said it was saying "I am here".  See video on that EVP and you be the judge.  Casey captured an EVP in the man cave that said either "Tom" or "Paul".  In the man cave there were many African figurines, African ritual masks, antique piano, a lamp made of 30 dead bodies from WWII; a mini Nazi flag from WWII.  These are items from what I believe was their grandfather who served in WWII.  Dez captured a creepy crawling orb that was going up the wall of the ambulance.  Dez captured it on video.  Many orbs were captured on film, but I was not able to prove that these orbs had intelligent movement.  

CLEANSING:
Deanna conducted a metaphysical cleansing with the help of Pelenta and Randy holding candles.  I conducted a Roman Catholic house blessing.  Casey blessed the investigators outside.  Deanna left Heather with candles, smudging wand, holy water, etc.