I am an unprofitable servant
Entry posted by markdohle ·
113 views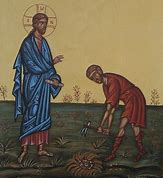 I am an unprofitable servant

This past Sunday we had our Lay Cistercians at our retreat house. It is a monthly affair. Below is a homily that he shared with the Lay Cistercians by our Fr. Cassian. He always has an interesting slant when he speaks about the parables in the Gospel. Hope you all enjoy and get something out of it.—BrMD
 
Homily
Preached to the Lay Cistercians
October 6, 2019 by Fr. Cassian OCSO


I am an unprofitable servant. An unworthy servant. An unnecessary servant. A worthless servant.

This is hard for Americans to accept as something we would ever say. We believe in each person's worth. Healthy self-esteem is necessary for survival and success. We are free and autonomous individuals, not servants to be compelled.

What is Jesus trying to tell us?

Jesus begins his question: "Who among you would say to your servant who has just come in from plowing or tending sheep in the field." Why does he start with this? Is he speaking to a crowd of Roman land-owners or to some wealthy Herodians? Isn't his usual audience people who plow fields and tend sheep? Why has he shifted to speak to land-owners? Is he cracking a joke to get some attention?

This is another of those places where I begin to think that Jesus may have been a bit of a stand-up comic.

Isn't he speaking to the servant: "when you have done all you have been commanded, say, 'I am an unprofitable servant; I have done what I was obliged to do.'"

This reminds me of the 7th step of humility in which Benedict cites "I am a worm and not a man." Benedict asserts that "a man is convinced in his heart that he is inferior to all and of less value." This is hard. We believe that humility is an accurate evaluation of oneself, not a put-down. This undercuts our common values and thus, often leads to rejecting this step as worthy of serious consideration.

Benedict's first step is foundational to all the others. When I offered my own version of these steps, I asserted in my first step "Since God is Love, we are to keep Love in mind, we are never to forget Love." This is the focal point of all the other steps which, one by one, clear away the clouds that obscure this love. My version of the unpleasant 7th step was to "puncture your superiority so you can let Love tower over you."

Is this behind today's parable?

The servant has done all that he was commanded and he takes no credit. He does not assert his accomplishments. He simply fulfills the commands and remains at peace.

What are these commands? Instead of being external directives that compel our behavior, what if these were the directives given at our very foundation, at the very moment of our creation? What if they were our genome, the unfolding seed within the seed?

We were created to love God, to love our human partners – even our neighbors – and to care for the earth. If we fulfill these commands, are we not embodying the deepest of impulses implanted in us? Are we not fully obedient to those commands when we see the flowering of our surrounding human communities and natural ecosystems around us? And when we see that, will we not be content to say "I am an unworthy servant, for my service has been a service to divine providential care"?

Reading this parable in this manner, we might see a connection to that tiny mustard seed of faith which grows according to what has been placed in its heart at its very creation.

Yesterday the Ecumenical Lay Cistercians tossed this parable around with me. I mentioned the service of a caterer and wondered whether he was an unprofitable servant.

As we developed ideas, our caterer Thomas helped uncover some important dimensions. When he had spent some time competing for prizes and recognition, his focus had been on what he could accomplish and whether he could accomplish more and cook better than others.

Eventually, caught up with a competitive focus on his own performance, he burnt out. He stopped serving as a chef.

Now he is finding delight in providing food for a party people enjoy. He does what is needed to bring life to a party. He prepares good food that will add pleasure.

He himself stands back, watching the party happen.

Jesus may have been pointing this out to us: Direct your eyes away from your own accomplishments toward the goal of your service. Direct your attention beyond yourself toward whatever joy lies ahead.

My reading of today's gospel would not at all be acceptable to scholars formed in the historical-critical method of scriptural interpretation.

My reading is my own response to the text, a response which St Aelred assures me is guided by the Holy Spirit.

My response is colored by my own historical situation in 21st century American Catholicism and by my own critical skills.

I live in a time when so many people have lost touch with God, God as Creator, God as Redeemer. This moves me to look for a God to proclaim what may draw people back to faith.

In 1955, Flannery O'Connor wrote a letter which still rings for me and which expresses part of what shapes my response as a homilist: "One of the awful things about writing, when you are a Christian, is that for you the ultimate reality is the Incarnation, the present reality is the Incarnation, the whole reality is the Incarnation, and nobody believes in the Incarnation; that is, nobody in your audience. My audience are the people who think God is dead."

And so I speak of God the creator at the foundation of the world. I speak of life unfolding from a meager seed. I speak of the love planted at creation in the seed of our hearts. I speak of looking beyond our own limits and desires. I speak of the joy that lies ahead, a direction, a goal. Incarnation and Redemption.

This is what Jesus tells me in this parable today.