Entry posted by pauldaleroberts ·
61 views
UFO Over Bath
Special Note:  This interview has been modified.  Example:  HPI acronym was Haunted Paranormal Investigations in 2007, it's now called Halo Paranormal Investigations.  Format was changed to reflect our present time.
HPI (Halo Paranormal Investigations) receives many hotline calls and we recently received a call that caught my interest.  The call is from Steve Montgomery of Bath, Somerset.  Below is our interview conversation.
Paranormal Hotline Call:  Date: 5/16/2007.  Time: 13:10 p.m.  Caller: Steve Montgomery of Bath, Somerset who now resides in San Diego, California.
Telephone rings.
Paul:  Paranormal Hotline, how can I help you?
Steve:  Hi, my name is Steve.  I'm calling about the Alderney UFO sighting.  Did you hear about it?  Special Note:  Steve is talking about the 2007 Alderney UFO Sighting that took place on April 23, 2007. 
Paul:  Yes I did.  Were you involved with this sighting?
Steve:  No, but I found it interesting, because reports indicate that they were emitting very bright yellow lighting.  I had an experience like that in Bath, England.  I witnessed a UFO that was emitting a very bright yellow light.
Paul: Were you vacationing in Bath? 
Steve:  No, I lived there, I now live and work in San Diego. 
Paul:  Just to let you know, I have vacationed in London, England and visited Westminster, Piccadilly Circus.  I also visited the Jack the Ripper / Kray Twins Whitechapel area.  Spent 7 days in England with visits to Stonehenge and a stopover at Bath.  I was very impressed with the Roman built bath system that they had.  England has so much history and I was hoping to see a crop circle in the Stonehenge area.  Unfortunately, I did not see any crop circles.  What was your experience in Bath and sighting a UFO?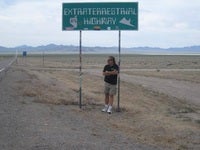 Steve:  Well, in June of 1992, when I was living in Bath, Somerset.  I took my then girlfriend to Fairy Wood for a bit of sightseeing and a nice stroll.  I think it was about a quarter past 6.  My girlfriend and I noticed a couple of trees shaking.  We thought this was very unusual.  Paul, this is something I have not really discussed with too many people.  I have people who have questioned my sanity, when I relate this story to them.  I hope you will not think I am loony.  Special Note:  I found this comment interesting, because fairies are at times associated with aliens and UFOs.
Paul: Steve, you have my ear on this.  I had many strange paranormal experiences, so no, I will not think you are crazy.  Please go ahead with your story.
Steve:  My girlfriend and I, saw a very bright yellow object in the sky.  The object looked to be the size of a small Cessna aircraft and then we heard a popping noise.  The popping noise came from the object that was emitting a bright yellow light. The object was now about 3 feet in length and 2 feet in height.  Somehow it went from being a large object to a small object.  This now small yellow lighted object landed on a high tree limb and the yellow light from the UFO started pulsating.  The air felt thick and heavy and the air seemed like it was flowing like jello.  It's hard to explain.
Paul:  I think you were experiencing the Oz Effect, where everything is surreal.  This is very odd.  What was the shape of the UFO when it was large and when it was small?
Steve:  When the UFO was large and when it was small, it was globe shaped at all times.  The object stayed on the branch for about maybe 5 minutes.  Everything seemed to move in slow motion.  When the object finally left the branch, it basically blinked out and was gone.  It was very surreal.
Paul:  Steve, was there any missing time? 
Steve:  No.  In fact when it blinked out, everything was back to normal, my girlfriend and I, were not walking in slow motion like before.
Paul:  So, it just blinked out, it didn't speed away?
Steve:  Yes, it blinked out, it vanished.
Paul: Did you contact MUFON or any other UFO network?
Steve:  No, I thought people would think I was crazy.  Time has passed and I feel more comfortable talking about it.
Paul:  Do you mind, if I publish your interview?
Steve:  I don't mind, but please do not publish my telephone number. 
Paul:  I won't.  Is there anything you want to add to the interview?
Steve:  No, that about sizes things up.  Do you plan to go across the pond again?
Paul:  I would love to, I saw London, England; Cardiff, Wales; Edinburgh, Scotland; Dublin, Ireland; and Newry, North Ireland.  I would LOVE to go back!
Steve:  Well, you are well traveled.  Thank you for hearing me out. 
Paul:  You are welcome, have a great rest of the day.  Goodbye.
Steve: Goodbye.