Entry posted by markdohle ·
97 views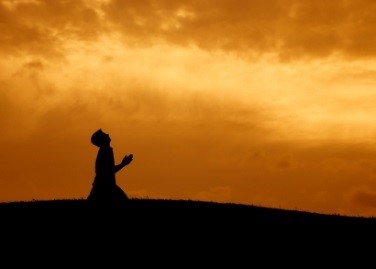 Uneasiness in prayer
You think that your inability to pray without distractions is an obstacle to My grace. Were that so, I would not have been able to sanctify a great number of those whom My Church honors as saints. Distractions, when they are not entertained willfully, are no obstacle to My work in a soul. My grace passes through them to touch the center of the soul wherein all is still and in readiness for My healing and sanctifying touch. Come to Me
A Benedictine Monk. In Sinu Jesu: When Heart Speaks to Heart--The Journal of a Priest at Prayer (p. 126). Angelico Press. Kindle Edition.
++++++++++
Christians do not always agree about the nature of salvation. Some believe that 'once saved, always saved', though I see no scriptural foundation for this. True there are 'quotes' that are beaten to death over this issue, while at the same time ignoring others. There are some who believe that one can lose one's salvation in an instant, which I do not believe is scriptural either. However, since we are free, at least free enough to be held responsible for our lives that it should give pause on what is the nature of our lives, and what it is about.
It can't be helped, but we bring our own human psychology into play when we seek to understand how the Lord will judge us. Which can be daunting, at least for others, those we judge. There is a lot of condemnation going on in the Christian churches, and those who sling have what they believe good reasons for it. Yet we are told not to judge the souls of others.
In 1 Corinthians 4:4 Paul has this to say:
"I am aware of nothing against myself and I feel blameless, but I am not by this acquitted [before God]. It is the Lord who judges me."
There are some who would use this to bring about a great deal of fear, yet that is because we can place ourselves in the place of God who judges the way we would, though in a more powerful way.
Our existence is not our own. There are no self-made men or women, but people who develop gifts that they have received that hopefully make this world a better place. We are loved into existence, each of us is God's child, and yes as Jesus said, the Father will prune away all that is not fruit-bearing. None are turned away, though there are some who do turn away in freedom.
When I pray, it is hard to let go of preoccupation with how my prayer is going. I make God into a bigger me, but not that much different when I get into this mindset. For I do have lots of distractions, and not all of them are pretty. Anger, lust, boredom, restlessness, all come up, yet grace keeps me coming back to the presence of God. On other days, I pray what I perceive as 'better', and that God, the one in my imagination is more pleased with my good days and not as pleased with my so-called bad days. Yet I doubt that is true, for God sees me, knows me, understands me, and I am thankful that he will judge me, and not someone else like me. It is the same for everyone…..everyone.
In my soul, mercy and justice can be at odds, with God that is not so. I know little about myself and what drives me, yet God sees it all and still loves me. This can be very freeing and save me from a great deal of silly preoccupation that only leads to navel-gazing.
We are called to be child-like. To be naked before God, to run towards God who, yes, is our judge. Yet when reading the story about the Prodigal Son, the only thing to fear is ourselves. God's will and God's love are infinite, we are finite, we all wrestle with God, and in that, we are wounded. So keep wrestling, praying, and don't worry, just trust one day at a time.—Br.MD