Newcastle Scouting Mission & Ghost Tour 10/10/21
Entry posted by pauldaleroberts ·
22 views
Newcastle Scouting Mission and Ghost Tour 10/10/21
Paul Dale Roberts, HPI's Esoteric Detective
Halo Paranormal Investigations
 
VIDEOS FROM THE INVESTIGATION:
INITIAL REPORT
October 10, Sunday.  Time of Tour: 7:30pm.  Mike Antuzzi/Newcastle 530 305 4877
Date to be there: October 10, 2021 Sunday
Time to be there: 7:30pm to 10pm
Meeting spot: Antuzzi's Newcastle Inn, 525 Main Street, Newcastle, CA
Purpose: Ghost Tour
Comments: On this ghost tour, you will learn some history about Newcastle. Our psychic medium will point out the ghosts that she encounters at Newcastle. Newcastle is very haunted and Antuzzi's Newcastle Inn, where we are meeting at, is haunted. We will take a casual walk around the town, all of the shops, warehouses are conveniently near our meeting spot. Paul Dale Roberts will discuss methods of ghost hunting and talk about some of his best scary cases. Paul Dale Roberts and Wish aka Deanna Jaxine Stinson are location scouts for Northern California for Discovery + Ghost Adventures. Please bring a camera or smart phone to take pictures. During the ghost tour we will attempt to get EVPs (Electronic Voice Phenomena) and take pictures to see if we can capture any anomalies in our photographs.
THE INVESTIGATION
10/10/2021:  On this night, Deanna Jaxine Stinson aka Wish and I, Paul Dale Roberts conducted a ghost tour in the town of Newcastle.  Case # 9B16Z4179Y270.  The tour guests were Shauna and Ben and a team of teenagers that wanted to learn about ghost hunting. They were celebrating a birthday.  We met up at Mike Antuzzi's Italian Restaurant at 525 Main Street.  My team met up with me at 7pm.  The tour group showed up at 7:30pm.  When they arrived we did a group shot and handed out HPI business cards.  At 8pm, I did a book contest giveaway.  Question asked:  What is another name for Bigfoot and someone answered Sasquatch and they received a $30.00 book called the Vampire Almanac.  Next question asked: Give me another name of the Abominable Snowman and someone gave the correct answer: Yeti and received an HPI book of our paranormal investigations.  I gave them some history of Newcastle.  The Central Pacific ran through here in 1864.  This was part of Gold Country and back in the 1800s you had miners in this town.  Greed caught up with them and there were suicides and murders, this may be why the town is so haunted.  I told them that Antuzzi's restaurant used to be Constable Jacks.  Two ghosts haunt this establishment.  You have Gary the Ghost that threw wine bottles, plates and cups at the patrons.  One time there was an exploding beer bottle.  You also have Emily the Ghost that is seen wearing a pioneer type of dress and has blonde hair.  She is known to pinch patrons.  Rumor has it that Gary the Ghost was killed in a bar fight at this establishment.   Newcastle burned down 3 times and the bar at this establishment caught on fire.  The basement of this establishment was once a brothel.  At 8:30pm, we went on a ghost hunt with Wish.  Wish pointed out where there was a male ghost and we captured a Class A EVP that said: I'm here".  We conducted 2 sets of investigations.  I explained to the crowd what living ghosts were, quick and dirty EVPs and looking for intelligent movement in orbs, to deem them as paranormal, otherwise it could be dust, skin flakes, lint, etc.  Wish picked up on something demonic and I captured a growling EVP.  Also in the area that Wish felt something demonic, is where a woman was murdered.  So perhaps the growling noise was a gurgling noise of someone drowning in their own blood.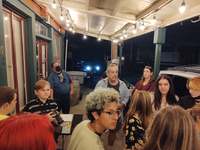 Paranormal Investigators Who Assisted With this Scouting Mission:
Christian Appel and Ryan.   Christian filmed the scouting mission for his youtube channel.  Ryan had a LARGE assortment of ghost hunting equipment and he gave a speech on how to use each one and what the purpose was for the equipment.  Of course Ryan had a cool Kinnect. 
Mike Ouilhon showed the scouting party his equipment.
Alaceo "Big Al" Rosatano showed the scouts how to get a quick and dirty EVP.
Heather Colburn and her 2 sons.  Heather was able to show the scouts various orbs she captured with her phone.
Tiffany Gonzales and her 2 sons showed up and Tiffany was able to provide advice to the scouts.
Below are my latest paranormal hotline calls:
Paranormal Hotline Calls 10/6/2021
10/6/2021.  Time of Call: 9:30am.  Case #20K942H05M741.  Caller says she lives off Calvine in Sacramento.  She believes her house is cursed. Terrible things have befallen her, such as injuries, financial problems, etc.  She believes there is an entity in the house.  The curse was created by her fiance's mother who dabbles in the black arts.  Her fiance's mother does not want them to get married.  Her fiance has become lethargic and sometimes stares into space, he barely talks.  I provided the caller with information on how to counteract the curse.  She did not want my team to investigate, because of her fiance being there. 
10/7/2021. Time of Call: 2:47pm.  Case # 7B07M4163T359.  Natalie Bennett (caller) says that she is a spiritual empath.  She has an issue at home.  Natalie took an online course to connect with her spirit guide and ancestors.  After she took the course, she saw an entity in her home.  The entity went into her 14 year old daughter's room.  After this incident, Natalie's daughter felt withdrawn and depressed.  Natalie is from Fairfield, CA. I explained to Natalie to have her daughter baptized, a full submersion baptism, which is a basic form of exorcism.  Natalie feels her daughter may have an attachment.  I also told her how to bless her home. If she has anymore incidents, she will call me.

10/9/2021. Time of Call: 12:36pm.  Case # 20B96521V462.  Brother calling for his sister.  They have a couple of mischievous entities in their home, that hide items from them, especially their shoes.  They want the entities out.  They live in a home in Santa Rosa.