Haunted Avery Hotel & Paranormal Hotline Contacts
---
Haunted Avery Hotel & Paranormal Hotline Contacts
Paul Dale Roberts, HPI's  Esoteric Detective
Halo Paranormal Investigations

Photos and Drawings:
1st Photo is of the historic Avery House in Avery, Ca
2nd Drawing is Razor's Edge and her partner Rapid Fire.  Drawn by William Carlisle. Concept by Paul Dale Roberts
3rd Drawing is cryptozoologist Paul Dale Roberts hunting Bigfoot in the forests of Oregon.  Drawn by William Carlisle.





In the year 2005, my HPI team and I, were headed for a private residence in Arnold, CA to conduct a paranormal investigation.  We made a stop at the historic Avery Hotel.  There was a wedding party inside the Avery House, so I had my team do an outside perimeter investigation of the Avery Hotel.  One of my psychics saw a cowboy type of guy wearing a black cowboy hat standing close to the hotel.  Our psychic yelled for us and we immediately started  taking pictures and conducted an EVP session.  In one of our pictures, we captured a cloudy mist.  This could be some kind of camera malfunction or possibly  we caught the essence of the cowboy ghost.  After 6 EVP sessions, we finally captured an EVP that was a male voice and it said:  "Quit Caterwauling!"  I had no idea what caterwauling meant and I looked it up and it means "singing" and one of my male investigators was humming a tune, while he was taking pictures at the Avery House.  I would love to conduct an inside investigation of this old hotel.  Below is what one website has to say about the hotel:   

"The oldest operating hotel in Calaveras County, it was built as a family home in 1851 by Joseph and Sarah Goodell of Maine. The Goodells later relocated to Stockton. In 1853 Peter and Nancy Avery, also of Maine, began operating it as a hotel. Famous guests have included Alfalfa of "Our Gang" fame and western legends such as Black Bart and Roy Rogers. Owners and guests have reliably reported that the benign spirits of a late 19th century sea captain and a locally revered school mistress still occasionally visit the hotel. Hazel Fischer, the school mistress, lived in the hotel for 30 years until her death in 1967. She was responsible for forming the Avery School District. in 1992 the hotel was purchased by the Gotelli family who carried out extensive renovations. Since then, further restoration has taken place to provide a gracious and historical atmosphere for its guests."




Paranormal Hotline Contacts
Location Scouts: Paul Dale Roberts & Deanna Jaxine Stinson
For Discovery + Ghost Adventures

Paul Dale Roberts, HPI's Esoteric Detective
Halo Paranormal Investigations


The following have been submitted to my contact at Discovery + Ghost Adventures:

Name: Gary Robinson
Location: Houston, Texas
Owns his own home.
His home was at one time an asylum.
Case # 8B32MJ696U2201
Activity: While living in this home, he was once possessed, which caused 3rd degree burns on his feet. He once had a medium at his home and the medium was followed home by a demon that terrorized her all night long. He believes there are 10 evil ghosts in his home. He has captured EVPs in his home. He is in possession of a haunted oil lamp and John Zaffis wants him to throw the lamp in the ocean. He hasn't done that yet. He is terrorized by demons every night. The worst demon is a demon that has a burned face. He has buried the haunted oil lamp in his backyard. He submitted these two photos and believes the demon's face is in the photos.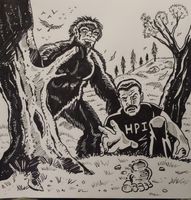 Names: Keith Dovichi and Devan Langan
Case # for Keith Dovich: 2B09273V7497
Case # for Devan Langan 2P09C2833062 and 20J92954X151
Both Keith and Devan live in Pioneer, CA
Activity: Keith claims he is terrorized by demons and even has been attacked by a demonic force.  Keith claims his home is built on Indian burial ground.  Keith says that he has even been visited by Bigfoot.
Keith's neighbor Devan Langan is terrorized by demons and one demon that really has him shook up is a demon that is half man, half ram.  This demon has no skin or fur on his face.  Devan believes he has 4 portals inside his home and 6  portals on his property outside.  

END

Richard Ramirez Documentary
Case #3C8629Z93488
Katie Perry - TV producer contacted me in regard to my article on the ghost of Richard Ramirez.  Katie is working on a documentary that details ghostly sightings of Richard Ramirez aka the Night Stalker.