Back-to-Back Paranormal Investigations
---
Back-to-Back Paranormal Investigations
Paul Dale Roberts, Cryptologist
Halo Paranormal Investigations

HPI Special Ops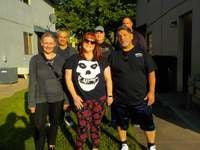 8 VIDEOS OF THE INVESTIGATION CAN BE FOUND AT MY YOUTUBE CHANNEL, ALL VIDEOS ARE TITLED: BACK-TO-BACK PARANORMAL INVESTIGATIONS, THE LINK TO MY CHANNEL IS HERE:
www.youtube.com/channel/UCDiugDTWsbcMw6f3RDah5gQ

MIKE'S POSSIBLE APPARITION PHOTO CAN BE SEEN HERE:
www.youtube.com/watch?v=X-Km-2eSju0

INITIAL REPORT
Date to be there: April 23, 2022. Time to be there: 6pm. Contact Person: Sherry Wilson. Address to be at: XXX Harding Blvd #1 & 2, Roseville, CA. This is a four-plex and we will be investigating 2 units with 2 families. Both families are experiencing paranormal activity. Sherry believes the spirit of her father is haunting her unit. She also says that there are 2 other ghosts hanging around. Lots of strange sounds resonate through the unit and the meowing of a ghostly cat. The units were built in 1970. We are investigating Unit #1 and Unit #2, both units are 2 bedrooms.

HPI PARANORMAL INVESTIGATORS ROLL CALL:
Paul Dale Roberts- HPI Co-Founder; Robert Castaneda - Photographer; Cynthia Moore - Photographer; Mike Ouilhon - Spirit Box Coordinator; Leanne Leighty - Photographer; Ryan Privee - Equipment Specialist / Psychic Medium;  Alaceo "Big Al" Rosatano - EVP Analyzer; Fred Haeug - Observer.
OCCUPANTS: Sherry Wilson and Terri Cochrane.

One of the Units:




HOW THE INVESTIGATION WILL BE CONDUCTED:
Since there are 2 units, Team 1 will investigate Unit 1 and Team 2 will investigate Unit 2.  The investigation session is for 1 hour and afterwards we have a briefing to determine what we discovered.  After the briefing, Team 1 will investigate Unit 2 and Team 2 will investigate Unit 1 for a period of 1 hour.  Only one unit wanted a blessing and I blessed Unit 1 after the investigation.  Both units have friendly spirits, nothing evil.   Team 1 consisted of Leanne Leighty, Big Al and Fred.  Ryan was a floater.  I was a floater.   Team 2 consisted of Robert, Cynthia and Mike Ouilhon.

THE DISCOVERY:
Ryan Privee says:  "A spirit upstairs in Unit 2 condo (Terri's unit) made my video malfunction twice so I lost the stick figure EVP you got.  We all heard loud footsteps upstairs and I lost that too.... I did have a spirit saying for me to leave after I said prayers when I switched to YT live."  Special Note: I modified Ryan's message.  Ryan and I, did some teamwork in Unit 2.  Ryan using his Kinnect was able to tell me that an image of a stick figure was by the TV and when he told me that, I started recording on my digital recorder and got a Class A EVP of a man talking.  Even though the EVP was audible, it was difficult to make out the words.  The 2nd time, Ryan tells me there is a stick figure by the stairwell and then moves towards the TV and tugs on my leg.  I pulled out the recorder and did an EVP session and captured a whispery voice.   You can hear the EVPs at the video link above.  One investigator said he saw a quick moving shadow figure in Unit 2.  In Unit 1, Ryan picked up on a name that started with J and one of the occupants mentioned a deceased family relative with the name James.  Ryan was scratched in Unit 1, probably by the ghostly cat.  Mike Ouilhon received a few intelligent responses on his spirit box.  Big Al captured a couple of EVPs and one EVP sounded like an echo of his voice, but there was no echoes in the units. A couple of investigators felt like they were touched, especially Ryan.  Since Ryan is a psychic, spirits are more attracted to him, so he will experience more than the average person. Sherry showed me some orbs in her unit that she videotaped and I must say the orbs moved erratically.  Of course, it could be bugs.  I was not able to determine if the orbs she captured had "intelligent movement".   Mike Ouilhon got spooked in one of the bedrooms in Unit 2, he got touched on the wrist, he felt drained and started to get a headache. Mike says he saw a shadow figure move left to right and down the stair case in Unit 2.
You sent

SIGNIFICANT DISCOVERY:
Mike Ouilhon may have captured an apparition, see photo. Many of the investigators smelled a sweet cigar smell in Unit 2 and the occupant mentioned that one of her deceased relatives, (maybe her father?) smoked a pipe.  The odor came on quick and suddenly.  Then the smell was gone.  I even smelled it.  




CONCLUSION:
The haunting activity in both units were minimal, but I must say they are definitely haunted and it was a nice experience to investigate these two units that had ghostly presences and nothing demonic.