Haunted Roeding Park, Fresno, CA
---
Haunted Roeding Park, Fresno, CA
Paul Dale Roberts, HPI's Esoteric Detective
Halo Paranormal Investigations
www.***/
Email: jazmaonline@gmail.com
HPI Schedule: jazmaonline.boards.net/thread/1748/hpi-schedule-2021
Sacramento Paranormal Haunted Hotline: 916 203 7503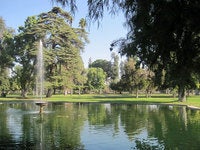 I was born in Fresno, CA, the home of the California Raisins.  I lived on Effy Street in Fresno and later moved to Simpson Street in Fresno.  I went to Alice Birney grade school.  Life was simple in Fresno, during my young years and my parents would take me and my sister to Roeding Park for our family picnics and sometimes a stopover at the Forestiere Underground Gardens in Fresno.  What is interesting is that Forestiere Underground Gardens is known to be haunted by the man who made the garden, his name is Baldassare Forestiere.  He was an immigrant from Sicily.  If you ever have a chance to go to Fresno, make a stopover at the Gardens, it's a series of spectacular subterranean structures.  The place is mind boggling. He built the tunnels to escape the heat, something he learned by observing the Roman catacombs and underground wine cellars in Italy.  Baldassare had his underground rooms decorated with plants, some rooms had skylights.  Baldassare took residence in his creation.  Lilly Mansfield from Clovis says while she was touring this underground complex, she came upon the ghost of Baldassare and Baldassare raised his arm and pointed to a room and then vanished.  Baldassare's ghost was actually being like a tour guide for Lilly.  Lilly says she wasn't frightened at all and understands why Baldassare wants to stick around, he loves what he accomplished.   

The haunting at Forestiere Underground Gardens is what I call a "Casper" haunting.   The underground gardens are haunted by the creator, a happy ghost that is very proud of his achievement.  Now, I am going to step back a bit and tell you about a haunting that is not so peaceful and nice.  That haunting takes place at Roeding Park.   Mark Gibson from Salinas says that he saw several misty forms floating around the park and one of the forms went towards Mark.  Mark felt an unpleasant coldness sweep through his whole body.  When Mark told me this story, I could only wonder if these were the 9 victims of Marcus Delon Wesson, the Vampire King of Fresno?  This sick monster killed his own children and did unspeakable acts to his children.  Marcus now sits on death row in San Quentin Prison.    

Marcus received the name Vampire King, because he believed he was Jesus and he believed that Jesus was a vampire because he drank blood to become immortal. This is what Marcus believed, he was very delusional. When police raided Marcus home, they found coffins in his home. Marcus  tried to live the life of a vampire.

When Marcus slaughtered 9 of his family members, he was living across the street from Roeding Park.  Jeff Seconds of Merced says that when he was visiting the park with his family, he heard a child scream..."please help" several times, when he went to investigate from where the screaming was coming from, the screaming stopped and there was no one there.

Roeding Park is not the park that I once remembered, it's a park that has a history of violence. There have been gang violence, random shootings and clashes between motorcycle bike gangs.  The beauty of the park holds dark secrets and the residual effects of these hidden horrors most likely present itself here and there to visitors to the park.  Geoffry de Berry from Turlock, CA says that he went to a family reunion at the park and felt a claw like hand rake down his back while playing volley ball and his cousin noticed his back was bleeding.  When Geoffrey looked at his back, he had 3 strong claw marks that went down his back.  Geoffrey feels there is something evil lurking at Roeding Park.  Geoffrey says that Roeding Park is strange during the day, but very creepy at night.