Haunted Route 66
Paul Dale Roberts, HPI's Esoteric Detective
Halo Paranormal Investigations




I have not traveled the full length of Route 66 from Los Angeles to Chicago, but I have been on Route 66 in Oklahoma with my parents, when I was 11 years old. I also traveled on Route 66 in Arizona, with my Army buddy Julius Maybee.  Julius and I, were stationed at Fort Huachuca, Arizona - Military Intelligence School in 1979.  When the holidays came around, Julius and I, decided to do a road trip.  I have seen the Grand Canyon from the air and Julius and I, discussed in visiting the Grand Canyon in person and doing some hiking along Kaibab Plateau and the South Rim.  As we prepared for our road trip we started talking about Route 66 and yes, in 1979, I was very much interested in the paranormal.  I mentioned about some ghostly legends of Route 66 and before I knew it, Julius says ......"forget the Grand Canyon, let's explore Route 66!"  During out road trip, we stopped at Meteor Crater and that was a sight to see.  We took a detour on US 89A and stopped by the mystical land of Sedona. At Flagstaff, we ran out of gas and hiked over to the gas station, which was about 7 miles away and then hiked back to the car and gassed up. I learned quickly that when you go on a long road trip, you should always have a full tank of gas. A valuable lesson learned.  One of the legends I learned is that on Route 66 by Flagstaff there is a ghost called the "Route 66 Batboy" that walks Route 66.  The Route 66 Batboy is wearing a striped baseball uniform, a baseball cap and carrying what looks like a Louisville Slugger.  This ghostly batboy is walking on the side of the road and looks exhausted.  We received this ghost story from a gas clerk in Flagstaff.  According to the gas clerk, he once pulled up to the batboy to see if he was okay and the batboy seemed to mumble "I'm thirsty".  When he mumbled those words, the gas clerk started looking inside his car for some kind of beverage and when he looked up, the batboy was gone.  The gas clerk thinks the batboy was originally on a baseball team with Flagstaff High School and may have died in the 1920s from heat exhaustion.  The gas clerk's mother recalls a high school boy that died on the side of the road from heat exhaustion and that his girlfriend threw him out of her car after an argument and he was walking home on a hot Summer day.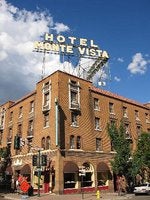 While in Flagstaff, we definitely had our eyes open for the batboy.  We never encountered this ghost.  We made a stop at the Hotel Monte Vista in Flagstaff, Arizona and heard stories from the hotel employees that John Wayne, Harry Truman and Bing Cosby stayed at this hotel.  The "Monte Vista Bellboy" haunts this hotel and if you stay in Room 210 - The Zane Grey Room, the bellboy will pay you a visit and knock on your door.  Some guests have also seen "The Old Lady with a Cane" ghost.  Guests will hear the sound of a cane hitting the floor and when they open the door, they will see an old lady with a slight hunch back, walking with a cane. One of the guests called out to her, to see if she needed help and the old lady turned around and disappeared.   

Another haunted place on Route 66 that I did not visit, but heard about is the haunted Meramec Caverns in Stanton, MO. This was the hideout of Jesse James. Tourists claim that they see a man in black and they believe it's the ghost of Jesse James. The caverns are also haunted by the "Meramec Mountain Lion", a ghostly cat that wanders around the cavern. A tourist named Lyle Corvan in 1987 claims he saw this cat and it looked like it was going to leap on him and in midair it vanished.  

When I went to visit my family in Lehigh, Oklahoma with my parents, we stopped off at Belvidere Mansion in Claremore, Oklahoma. The mansion is very majestic and looks like a castle. There have been reports of toilets flushing on their own, people getting touched, cabinets opening.  There have been 3 sighting reports of a "Lady in Mauve".  A ghostly middle-aged woman wearing a flowing dress that is the color of mauve is seen sometimes roaming the hallways.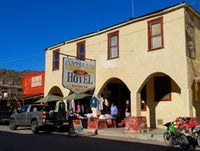 Julius and I, stopped by the Oatman Hotel in Oatman, Arizona and an employee of the hotel makes claim that the ghosts of Clark Gable and Carole Lombard haunt this hotel.  Clark and Carole stayed at this hotel and now that they are deceased, they are still here, because they loved this hotel.  Guests at this hotel make claim that they hear them talking and they hear Carole giggling. The Oatman Hotel also has a pesky ghostly gray cat that haunts the hotel and will sit on the windowsill and then vanish.  There have been other times when a guest will feel the presence of a cat lying next to them in bed.  

Gilcrease Museum in Tulsa, Oklahoma is another place that my parents and I, stopped at.  Legend has it that the Gilcrease Museum is haunted by its founder Thomas Gilcrease.  Legend has it that if the hotel is visited by 3 crows that make squawking noises, the ghost of Gilcrease will be seen.