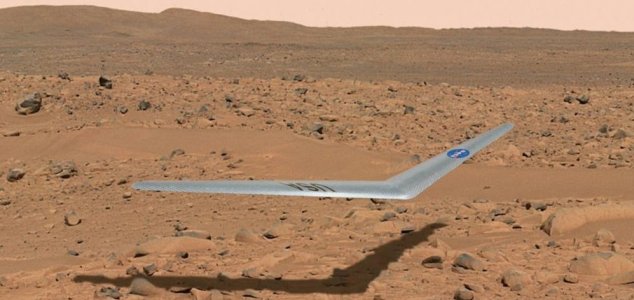 Concept image of what the Prandtl-m might look like.

Image Credit: NASA
Scientists have developed a prototype of a strange new boomerang-shaped aircraft for use on Mars.
When coming up with a design concept for a vehicle that will be operating on another world the first thing that usually springs to mind is a rover like Curiosity - a conventional wheeled explorer that can slowly but surely trundle around on a planet's surface over an extended period of time.
Not content with the limitations of a ground-based vehicle however NASA has been looking in to sending something with a bit more freedom. It's latest project, a fiberglass or carbon-fiber aircraft shaped like a boomerang, is designed to bypass this specific limitation in style.
The lightweight Prandtl-m, which measures 24 inches across and can glide through the air across large distances, could soon become the first ever airborne vehicle on Mars.
Later this year a prototype of the device will be lifted 100,000ft above the Earth on a balloon to undertake a test flight where the thin atmosphere mimics that of the Red Planet.
If all goes well then Prandtl-m could earn a place alongside the next rover that goes to Mars.
"The aircraft would be part of the ballast that would be ejected from the aeroshell that takes the Mars rover to the planet," said program manager Al Bowers. "It would be able to deploy and fly in the Martian atmosphere and glide down and land."
"The Prandtl-m could overfly some of the proposed landing sites for a future astronaut mission and send back to Earth very detailed high resolution photographic map images that could tell scientists about the suitability of those landing sites."
Similar aircraft could also be used in a variety of future missions on several different worlds.
Source: The Verge | Comments (4)
Tags: Mars, Boomerang