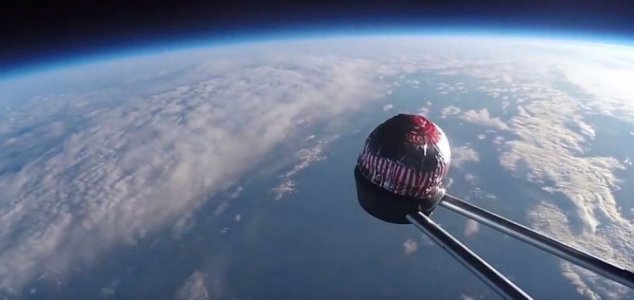 Where no teacake has gone before.

Image Credit: Glasgow Science Center
Thousands of people watched online as the popular confectionery was launched in to the heavens on Friday.
Masterminded by scientists at the Glasgow Science Center (GSC), the launch was intended as a way to engage more people in the fields of science, technology, engineering and mathematics (STEM).
The teacake, which was nicknamed 'Terry' for the experiment, was lifted to an altitude of 21 miles using a hydrogen weather balloon before falling back down to Earth.
It eventually ended up landing in one piece in the branches of a tree in Galloway Forest Park.
"We engage people with space science every day, and we thought what better way to spark people's imaginations and interest in STEM than for us to launch something into space ourselves," said Dr Stephen Breslin, chief executive of Glasgow Science Center.
"We are delighted by how many people joined us at GSC, and online, to watch Terry's space adventures."
Source: BBC News | Comments (8)
Similar stories based on this topic:
Tags: Space, Teacake