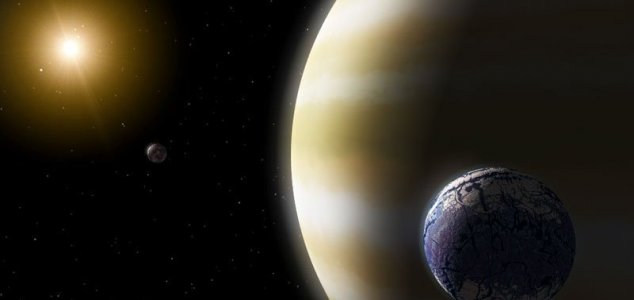 The search is on for moons orbiting distant worlds.

Image Credit: NASA/JPL
Astronomers believe that the moons around extrasolar planets may not be good candidates for life.
To date astronomers have identified 973 planets orbiting distant star systems and many thousands more are currently being investigated. As planet hunting techniques improve, so to does the amount of information we can learn about these distant worlds and soon we may be able to detect not just distant planets but also the moons in orbit around them as well.
One of the most pertinent questions scientists are seeking answers to is whether or not any of the newly discovered planets would be capable of supporting life.
Recent discoveries have offered tantalizing glimpses of Earth-sized worlds that could be potentially habitable, but what about their moons ? Could something akin to the lush moon of Pandora in James Cameron's "Avatar" be possible ?
One of the problems with moons is that their smaller size tends to make it more difficult for them to hold on to their atmosphere. Moons orbiting a planet with a large enough magnetic field to shield them from the effects of the damaging solar wind tend to only occur in the outer solar system, away from the 'Goldilocks Zone' in which the temperature is sufficient to support liquid water on a planet's surface.
"We have just scratched the tip of the iceberg, and there are other factors to consider and study in depth," said study author Jorge Zuluaga. "We need to discover the first exomoon and detect the first magnetic fields of extrasolar giant planets to gather some observational support to our findings. This is the very core of science."
Source: Space.com | Comments (1)
Tags: Extrasolar Planet, Alien Life