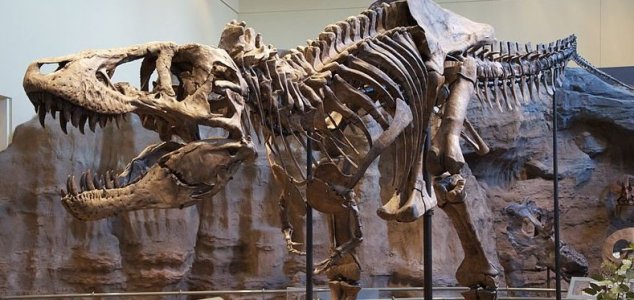 Did T. rex really make roaring sounds ?

Image Credit: CC BY-SA 3.0 Scott Robert Anselmo
Unlike in movies such as Jurassic Park, large therapod dinosaurs would not have been able to roar.
The stereotypical concept of a Tyrannosaurus rex sees this behemoth of the prehistoric world roaring like a lion as it rampages through the jungle after its prey, but recent studies in to the vocalizations of dinosaurs have revealed that these animals may have sounded a lot different to what we would expect.
Producers of the Jurassic Park movies used a combination of elephant and dog sounds to create the trademark roar of the Tyrannosaurus rex, vocalizations that the real thing would have been unable to produce. With no larynx or syrinx in fact most dinosaurs may have only been able to produce a very limited range of sounds that would have been quite unlike those used in the movie.
In reality Tyrannosaurus rex is more likely to have made hissing, rattling or booming noises like a snake or crocodile while a lot of the communication between other dinosaur species would have relied on visual cues such as colorful crests, frills or horns.
Some species of dinosaur may have not even made any sounds whatsoever.
Source: io9.com | Comments (32)
Tags: Tyrannosaurus rex, Dinosaur