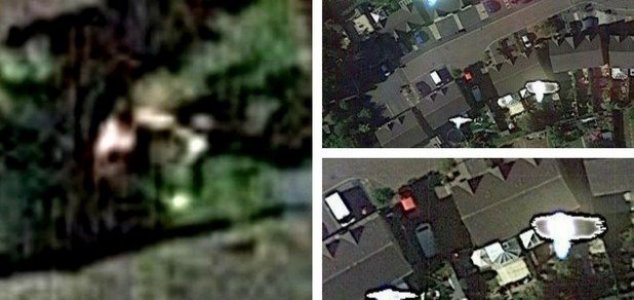 Google Earth images of the alleged altercation.

Image Credit: John Mooner / Google Earth
John Mooner insists that he not only tried to hit an alien, but that he even has photographic proof.
Mooner, who is from Devon in the UK, maintains that he has been abducted multiple times by extraterrestrial visitors over the last few years after experiencing periods of missing time.
Eager to find evidence of this, he decided to look up his own house on Google Earth and discovered to his surprise an image of what he believes to be an alien entity attempting to take him away.
"The shocking thing about this was that it's me being abducted by a grey alien and the satellite image clearly shows me trying to fight off the grey alien by punching it in the face," he said.
"Looking at the image it appears that the alien has blocked my punch and has grabbed my fist and must of been able to subdue me. I was left speechless by what I saw."
Suffice to say, however, the image is far too pixellated to make anything out with any degree of certainty - the two figures for instance could be little more than two items of garden furniture.
Furthermore, even if the image does show two people - why should one of them be an alien ?
Despite these doubts however, Mooner remains convinced about what happened.
"I was abducted and this satellite image is proof," he said.
Source: Russia Today | Comments (69)
Tags: John Mooner, Alien