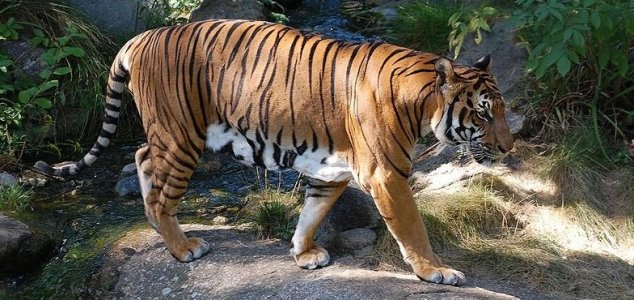 A young Indochinese tiger.

Image Credit: CC BY-SA 3.0 R. Altenkamp
Scientists have confirmed the discovery of ten ultra-rare Indochinese tigers in Thailand's eastern jungle.
Four females and six cubs belonging to the near-critically endangered species have been picked up on hidden trail cameras - a find that conservationists have referred to as "miraculous".
The Indochinese tiger is so rare that only 350 individuals are thought to be left in the whole world.
"It provides a little bit of hope that potentially, we no longer have all of our eggs in one basket," said conservationist Eric Ash. "That really can only happen if tigers have effective, sufficient amount of prey and if they have sufficient protection."
Around 221 of the tigers roam the wilds of Thailand and Burma while the rest are thought to be clinging on in parts of southern China, Cambodia and Laos.
"The Thai forestry department proved that with protection you can not only bring tigers back, but now the western forest complex, specifically Huai Kha Khaeng, is a global model of tiger conservation," said Alan Rabinowitz of conservation organization Panthera.
"It is one of the best protected and best tiger areas left in the world. They can do this now in the eastern forest complex as they've done in the western forest complex."
Source: Independent | Comments (6)
Tags: Indochinese Tigers