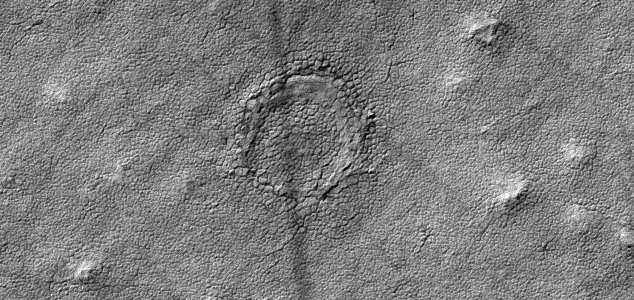 What could this be ?

Image Credit: NASA / JPL-Caltech / University of Arizona
The space agency has released a new image of a peculiar circle on Mars - but what exactly is it ?
Nestled in the planet's South Pole region on ground that almost looks like the skin of a lizard, this unusual circular feature, which is surrounded by small bumps, is quite unlike anything that NASA's scientists have ever found on Mars before.
Picked up by the Mars Reconnaissance Orbiter, the anomalous circle could be little more than an impact crater however it could also be some strange quirk of the polar landscape or perhaps even some previously unseen surface feature that is new to science - we simply don't know for sure.
"Craters in icy terrain are modified by processes that flatten and change them in such a manner that it is hard to say for sure if it had an impact origin," NASA wrote.
Source: CNET.com | Comments (15)
Tags: Mars