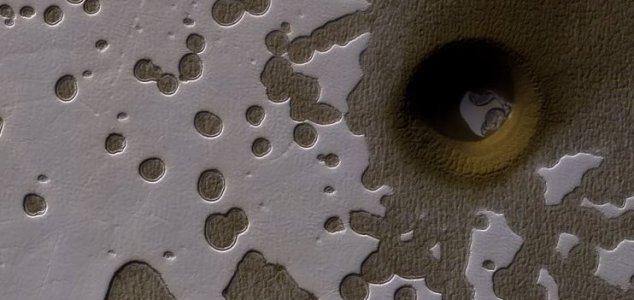 What was responsible for creating this hole ?

Image Credit: NASA / JPL-Caltech
NASA's Mars Reconnaissance Orbiter has discovered a rather unusual feature on the planet's surface.
Discovered within the 'Swiss cheese terrain' of melting frozen carbon dioxide on the Red Planet's southern polar region, the deep, circular pit, which measures hundreds of meters in diameter, has proven something of a mystery and has left scientists scratching their heads.
The surface of Mars is known to be home to countless holes and openings however most can be easily explained as either meteor impact craters or as features created by volcanic activity.
While deeper than most of the other holes dotted around the region, it is possible to see the bottom of this particular pit thanks to the telltale glint of white where the ice has settled inside it.
So did something fall from above or did the hole open when something gave way underneath ?
The answer remains, for the moment at least, unknown.
Source: Science Alert | Comments (16)
Tags: Mars, South Pole