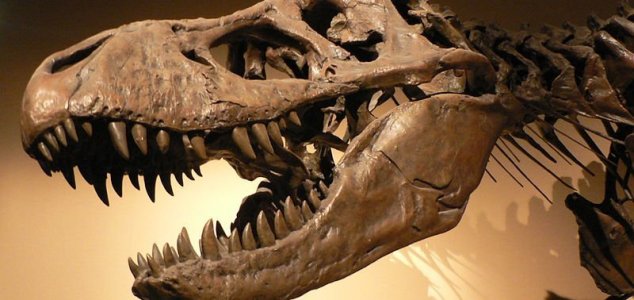 T. rex would have been unable to waggle or stick out its tongue.

Image Credit: CC BY-SA 3.0 David Monniaux
Researchers have revealed that the terrifying therapod had a tongue that was anchored to its mouth.
Despite numerous movie depictions of the tyrant lizard roaring at the top of its lungs with its tongue waving in the direction of its hapless prey, scientists have now revealed that if there is one thing that Tyrannosaurus rex wasn't very good at - it's sticking out its own tongue.
The discovery was made by palaeontologist Julia Clarke of the University of Texas at Austin and colleagues who looked at the fossil remains of the bony structures found in dinosaurs' mouths.
The findings indicated that the majority of dinosaurs had a mouth structure similar to that of today's alligators and crocodiles which have their tongue fixed firmly to the floor of their mouths.
This suggests that T. rex wouldn't have even been able to waggle its tongue, let alone stick it out.
"It turns out that most dinosaurs have the very simple hyoid bones of modern crocodiles, which anchor a tongue that is pretty much glued to the floor of the mouth," said palaeontologist Stephen Brusatte.
"A cousin of T. rex called Yutyrannus has this type of hyoid bone, as do almost all other dinosaurs, so it's reasonable to infer that T. rex did as well. Those images in Jurassic Park of the T. rex sticking its tongue out like a lizard as it prepares to devour its prey are probably wrong."
Source: The Guardian | Comments (6)
Similar stories based on this topic:
Tags: Tyrannosaurus, Dinosaur